Is Our Nutrition Coaching Program Right For You?
Are you looking to lose weight and see lasting results?
Are you looking for accountability from a coach to help you stay on track?
Are you looking for a customized plan?
Are you overwhelmed with all the diet information on the internet and looking for guidance on what steps to take?
Have you had trouble keeping weight  off that you worked hard to lose previously?
Is there a special event, milestone or competition coming up that you are looking for support to hit your goal?
A Nutrition Coach Will Reach Out and Schedule Your Initial Consultation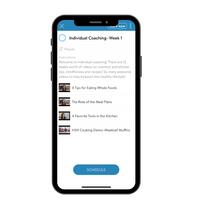 ✔ Initial Consultation With Nutrition Coach
✔ Habit Based Nutrition Coaching
✔ Goal Setting
✔ Individualized Nutrition Plan
✔ Weekly Virtual Check-ins 
✔ Healthy Cookbook
BOOK YOUR FREE DISCOVERY CALL
Get Started In 3 Easy Steps

Schedule Your Free Intro
We want to learn more about you to ensure our program is the right fit for you.
BOOK YOUR FREE DISCOVERY CALL
Create Your Plan
Work with a fitness and nutrition expert to create a simple and sustainable plan to reach your goals.
Become Your Best Self
Your personal coach is there every step of the way and will make adjustments to your plan as you progress towards your goals. This accountability ensures continued success and optimal results.
Nutrition Talk: Reset Your Health In 3 Easy Steps
We live in a society where being busy is better but what if it's not?  The problem is this leaves us overwhelmed and feeling like we didn't do enough. When we fill our schedules to the max, our health and wellness often gets pushed to the back-burner. 
We only get one body, we need to take care of it by how we fuel it, how often we move, how we recover, and our mindset! In this seminar you will walk away with 3 simple steps to help you reset and re-shift your mindset to create a healthy lifestyle! 
How Nutrition Coaching At Strength N Honor Will Provide The Support You Need To Crush Your Goals
At Strength N Honor Training and Nutrition, we simplify nutrition and fitness to help our clients take control of their health.
Our program is written and backed by a team of registered dietitians. 
The foundation of our program has helped 30,000 people around the globe lose weight and keep it off.
Access to the Exclusive HSN App to communicate with your coach and receive tons of educational information streamlined in one place.
Continual support and accountability to ensure you are moving towards your goals.
Receive a customized approach to nutrition and a meal plan made just for you.
You will receive healthy recipes and tips and trick to incorporate them into your schedule.